Let Us Do The Cooking!
Will you savor your supper tonight? After a visit to Testa's Gourmet to Go Market, you will! Among our freshly stocked, refrigerated entrees… Stuffed Filet of Sole, Salmon Filet, and tender Beef Tenderloin Tips in Pan Gravy… mmmm! OPEN Noon to 6PM, Tuesday to Friday, at 26 South Center St. in downtown Southington, just 10 steps from the curb inside Testa's Banquet Facility! Buon Apetito!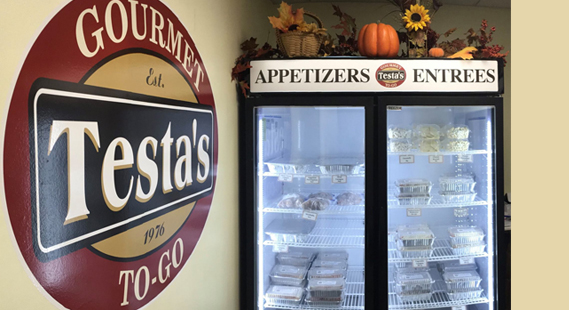 Catering Menus
Pasta Dishes
Meat Lasagna

Cheese Lasagna

Vegetable Lasagna

Eggplant Rollatini

Eggplant Parmigiana

Baked Ziti

Meatballs

Ravioli

Cavatelli

Tortellini

Pasta Sauce

Vodka Sauce
Chicken, Beef & Seafood
Chicken Cutlet

Chicken Parmigiana

Chicken Marsala

Chicken Piccata

Chicken Francaise

Stuffed Chicken Breast

Chicken Cordon Bleu

Chicken Pesto

Chicken Ala Vodka

Oven Roasted Chicken

Sliced Sirloin of Beef

Beef Tenderloin Tips

Stuffed Porketta

Stuffed Sole

Stuffed Shrimp

Salmon

Cranberry Crusted Cod

Gluten Dinners
Appetizers
Sausage Stuffed Mushrooms

Seafood Stuffed Mushrooms

Clams Casino

Chicken Wings

Stuffed Clams

Scallops & Bacon
Soups
Pasta Fagioli

Lobster Bisque

Chicken Orzo

& More!
Salads
Tossed Salad

Chicken Caesar Salad

Tuscana Salad

Arugula Salad

Cobb Salad

Italian Antipasto
Vegetables
Italian Medley

Peas & Mushroom

Roasted Garlic Parmesean Zucchini & Squash
Special Sides
Broccoli Rabe & Sausage

Sausage & Peppers

Rice Pilaf
Regular Sides
Garlic Bread

Stuffed Breads

Macaroni Salad

Twice Baked Potato

Scalloped Potatoes

French Scalloped Potatoes

Mashed Potatoes

Olives

Marinated Mushrooms

Giardinier

Artichokes

Stuffed Cherry Peppers

& More!

Assorted Italian Cheeses

Dried Cured Italian Sausage
Perfect Venue for Your Event
Check Out Our Facility!